Christophe Szpajdel solo exhibition "Owakudani-The Valley of Hell"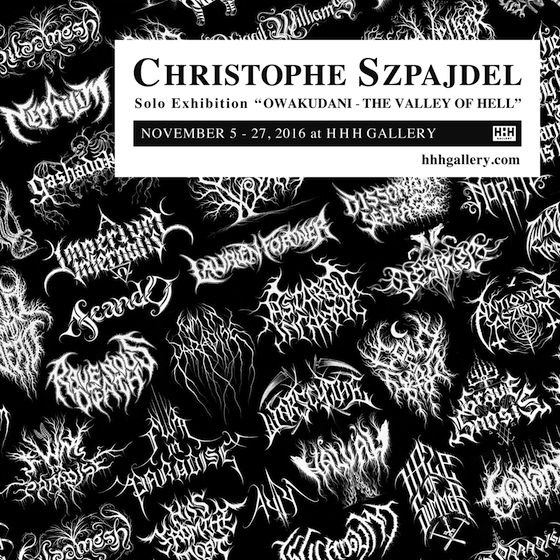 Christophe Szpajdel solo exhibition
"Owakudani-The Valley of Hell"
http://hhhgallery.com/exhibition-detail/christophe-szpajdel/
Nov 5 (Sat) – Nov 27 (Sun), 2016
12-8pm on every SAT/SUN
11月5日(土)〜11月27日(日)まで土日祭日のみ開廊
at HHH gallery
(2-21-17 Kosuge, Katsushika, Tokyo)
東京都葛飾区小菅2-21-17
Opening reception
Nov 5 (Sat) 14:00-19:00
展示初日10月5日(月) のオープニングレセプションはクリストフ・シュパイデルも来日。会場では、数種のシュパイデルロゴをTシャツ等にプリント出来るライブシルクスクリーンイベントを行ないます。入場は無料、どなたでもご来場できます。協力 EPIC INK
*ライブシルクスクリーン詳細は追ってお知らせ致します。
---
この度HHHギャラリーでは、ブラックメタルロゴの帝王と崇拝されるクリストフ・シュパイデルの展示を行ないます。90年代から活躍するノルウェーのブラックメタルバンド、Emeperorのロゴを手がけたことなどでも知られているベルギー出身のアーティスト、Christophe Szpajdel (クリストフ・シュパイデル)。彼はブラックメタルのロゴを一手に引き受け、これまでに手がけたロゴ数は7000以上。2010年にはこれまでの作品を収録したアートブック『Lord of the Logos』もドイツの出版社Gestaltenより発売され大反響を巻き起こしました。昨年2015年に初来日、原宿のTOXGOにて突如開催したアーティストトークとサイン会では作品ポスターが30分で完売、駆け付けたブラックメタルファンの前でTOXGOのショップロゴを1時間でライブ制作するなど盛り上がったイベントになりました。今回の『"Owakudani-The Valley of Hell"』展では、これまでのロゴアート作品約100点のほか、日本の妖怪をテーマに縦書きの日本語からアイデアを得た新作を展示します。
Christophe Szpajdel / クリストフ シュナイデル
1970年、ベルギーのジャンブルーに生まれたクリストフ・シュパイデルはルーヴァン・ラ・ヌーヴで育ち、ルーヴァン・カトリック大学にて森林利用学位を取得。しかし大学入学前からヘヴィメタル・アート、中でもロゴアートへの興味を強く持っていたクリストフは進む道を大きく変えた。
クリストフの作品が世界的に知られるようになったきっかけは、90年代中旬にロゴを手がけたEmperor、Old Mans Child、Enthroned、Moonspell & Covenant (後のCovenant) だった。以来、クリストフはエクストリーム・メタルシーンになくてはならない存在としてMelechesh、Falkenbach、Aborted、Abigail Williams、Bloodshot Dawn、Kampfar、Impiety、Behexen、Dystopian Wrath、Verdelet, Tsjuder、Lord Belial、Cryostorm、Graveland、De Profundis & Wolves In The Throne Roomといった100個以上のバンドのロゴを手がけ、中にはロゴの完成から20年経った今も使い続けてくれているバンドもあるという。
またクリストフはUKEM (United Kingdom Extreme Metal)や、オンライン・ラジオ番組Red Beards Ship O Metal、Wyldstone Metal (エクストリーム・メタルのオンラインサポートグループ) といった団体にもロゴを提供。ここ最近、クリストフがアールヌーボーやアートデコ、バルビゾンやクラシズム、さらにはタトゥーアートといった幅広いスタイルの影響を取り入れ始めたことから、ありとあらゆる新しいクライアントや業界、分野からのオファーが増え、新しいタイプのロゴデザインに取り組むようになっている。
Christophe was born in 1970, in Gembloux, Belgium and grew up in Louvain-la-Neuve were he also attended the Université catholique de Louvain gaining a degree in forestry engineering. But well before his University days Christophe had already taken a particular interest in Heavy Metal art, especially logos. This passion for logo's soon became his vocation, specialising right from the start in pencil topped by ink, keeping his work mobile, which he took full advantage of.
Christophe's work first came to wider international attention, in the mid 90's off of the back of logos for Emperor, Old Mans Child, Enthroned, Borknagar, Moonspell & Covenant (now Kovenant). Since then he has continued to make a significant contribution to the extreme metal scene having drawn for literally 100's of bands including Melechesh, Falkenbach, Aborted, Abigail Williams, Bloodshot Dawn, Kampfar, Impiety, Behexen, Dystopian Wrath, Verdelet, Tsjuder, Lord Belial, Cryostorm, Graveland, De Profundis & Wolves In The Throne Room to name but a few with the vast majority still being used to this day, in some cases 20 years since their creation!
He has also donated many logo's to "supporters of the cause" such as UKEM (United Kingdom Extreme Metal), Red Beards Ship O Metal (Online Radio Show) & my own project Wyldstone Metal (Extreme metal networking and support group).
In more recent times, Christophe has began to take on influence from an even broader spectrum of styles such as Art Nouveau, Art Deco, Barbizon School & Classicism & even Tattoo Art. This has increased the versatility of his potential vastly allowing him to undertake new types of commissions, and work within other areas of the international artistic community leading to requests from all kinds of clients and industries.